My last article was on
manga poverty
, how the creator of Umizaru criticized the terrible conditions that a budding mangaka has to start under. The article will not doubt shock many fans who have a rosy view of the industry. Today we will talk of what success looks like, featuring none other than the global hit title One Piece creator, Oda Eiichiro, reportedly a millionaire.
Oda Eiichiro, perhaps the most average looking mangaka.
Oda was born in January 1st, 1975, in Kumamoto City, Kumamoto Prefecture. Inspired by vikings from young, it was always his dream to be a mangaka. He even submitted his character, Pandaman, to the popular wrestling series Kinnikuman. Pandaman was featured in a chapter of Kinnikuman, and readers of One Piece will know that Pandaman has been the Where's Wally character in One Piece, where he is hidden in every other chapter for readers to find. He is also a fan of Dragonball and Dr Slump. Oda won several awards after submitted several yomikiri, and he finally dropped out of school in 1994 to work as an assistant to Kaitani Shinobu (Liar Game), Tokuhiro Masaya (Kyoshiro2030) and Watsuki Nobuhiro (Ronin Kenshin).
And then history was made. One Piece, developed from his earlier yomikiri, ROMANCE DAWN, became a hit in Japan right from the start of publication in 1997, selling millions of copies and was made into an anime in 1999. Currently into its 67th volume, One Piece sales have taken the number one position in the Guiness Book of Records, at an eye popping 320 million copies worldwide. Golgo 13 is a surprising 2nd at 280 million, and Dragonball is at 230 million.
And this excludes the royalties from the 700+ episodes of anime, 10 specials, 3 OVAs, 13 movies, and countless product endorsements. Add the standard merchandising and global distributions rights, and you can see how Oda made his fortune.
Oda's wife, in her modelling heyday. The lucky sod.
Most mangaka are single. The hectic schedule makes it almost impossible to socialise. Not in his case. Superman Oda apparently found time to court a model. The pair got married in 2004 when she became pregnant.
But this success has a heavy price. The truth surfaced in a magazine special into his work environment, when it was revealed that Oda sleeps at 2am and wakes at 5am EVERYDAY! And other than meals, he spends every waking moment drawing. Young by veteran standards, it still is a punishing regiment for the 38 year old.
Sleeping only 3 hours a day and working every day of the week. Even sweat shop conditions are more humane.
There are rumours of him working 3 weeks even during the 1 month hiatus he was given between part 1 and part 2! In 2013 Oda contracted Peritonsilar Abscess, usually a complication of tonsilitus, and was hospitalised. He continued working from his hospital bed, prompting many fans to plead with him to take care of his health.
Online comments have been varied and interesting. From the hilarious "Is he trying to buy Disneyland or a TV station?" " How many generations is he trying to feed" to the encouraging " Don't die Oda!" to the sobering "I know now why so many mangaka die early" " I don't want him to kill himself, but at the same time I want to read as much One Piece as I can", it is quite clear than he is very popular. Not so for his fellow mangaka of HunterXHunter (and lazy bum) Togashi Yoshihiro.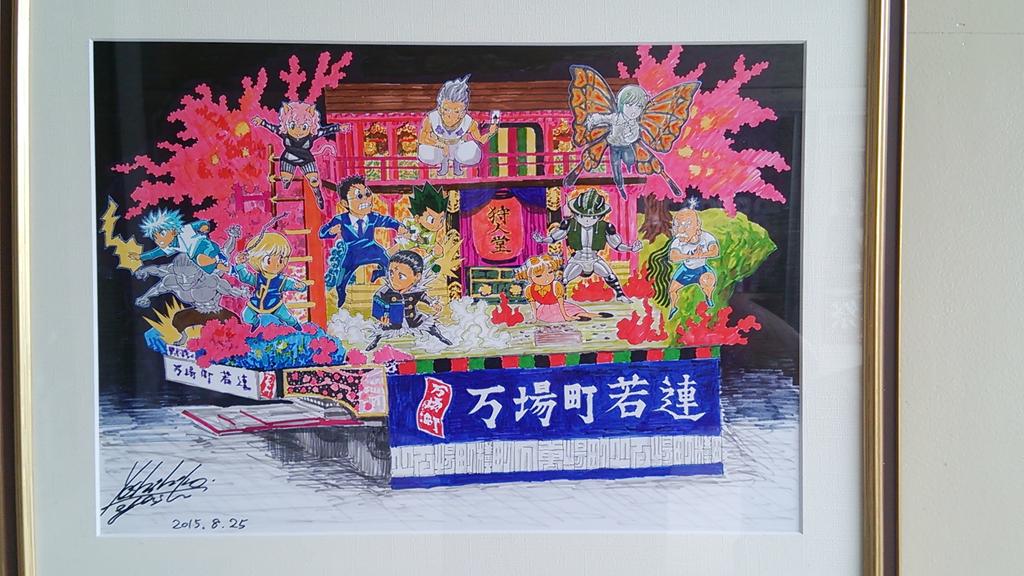 Why don't you go back to drawing Hunter instead? Wrote one angry fan
A post entitled "Togashi is still alive!" surfaced in 2014, with angry fans flaming him for slacking off consistently. Most common comments are "Why haven't you cured your illness yet?", "I have been waiting 3 years and 8 months for your next volume, get back to work". I will be covering him and other notorious slackers next.
Let us all pray for the continued health of the most hardworking man in the industry, Oda Eiichiro. The man who has amassed a fortune, and a beautiful wife, but does not even seem to have the time to catch a breather. With his legacy already secured, let us hope he concentrates on his work-life balance next