I think the title already spoils what this article is about, so let's hop right into it!
ReLIFE
Have you ever felt like you're stuck in life and don't know what to do? Same. Oh, not for me, luckily 一 but for the main character in ReLIFE.
Kaizaki Arata is a 27-year-old man who doesn't know where he's heading in life. He was working at a convenience store when a mysterious man approaches him and gives him the opportunity to relive his teenage years.
So what does he do? He takes it, duh.
There he meets the aloof and socially awkward Hishiro Chizuru, the naive but good-hearted Ooga Kazuomi, and hardworking and strong-hearted Kariu Rena. Under the guidance of the mystery man, also known as his support who goes by the name Yoake Ryou, Kaizaki navigates through his youthful days once again. That sounds breezy, right?
Wrong.
Being young again isn't as easy as you'd think. Kaizaki is behind the times with grades, slang and trends. But he isn't one to give up. So step by step, he immerses himself into this strange world that he had a taste of in the past. And like I said, it's tiny steps, so expect this show to be a slow burn.
As you watch episode by episode, you'll get to see character developments and insightful lessons being learnt. From trying to make friends to feeling incompetent as compared to your classmates, this show portrays struggles that students face all the time.
There are also some love arcs sprinkled here and there! Nothing illegal, don't worry. You'll get what I mean when you're near the end of the anime.
So for those looking for a simple but thoughtful show, here you go. And who knows? You might just start reliving your own life after watching.
Oregairu
School life anime - there's tons and tons of them. But for one to stand out among the rest and leave an impression? That's the real deal.
For me, one such anime is, take a deep breath ㅡ Yahari Ore no Seishun Love Comedy wa Machigatteriru, also known as My Teen Romantic Comedy SNAFU (actually in short, just call it Oregairu). Adapted from a light novel series by Wataru Watari, this anime has since branched out into more than one animation, and hopefully more to come.
So you may be thinking: what makes this anime different and unique from the rest? Well, what makes it so refreshing to me is undoubtedly the writing and character developments throughout the show, and how authentic it feels. Oregairu follows the main protagonist, an apathetic and antisocial guy named Hachiman and his interactions in his school days. Sounds simple, right? But it's so much more than that.
Have you ever experienced times when you felt left out, not just by people you aren't familiar with, but even with your close friends? Have you ever felt like you needed to act like someone you're not in order to fit in? I believe all of us, at some point in our lives, would have said yes to the questions above. And that's what Oregairu is about. It addresses the unspoken issues we all face in our society today. Things like knowing you're a people pleaser and hating it; wanting to isolate yourself because you're afraid of getting hurt ㅡ you get perspectives of people from all walks of life, with different personalities and different mindsets.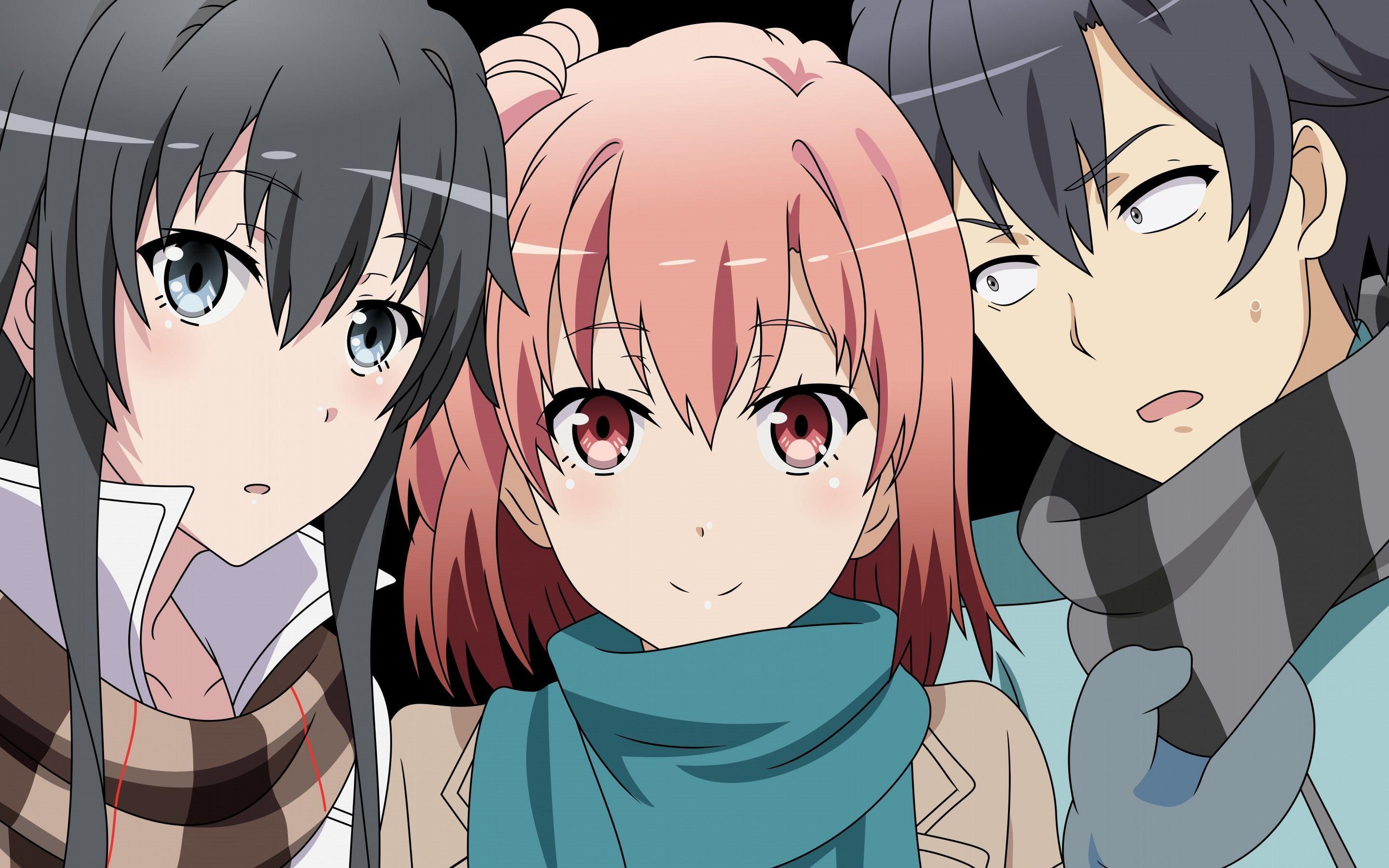 Hachiman is someone who doesn't want to keep up a facade to socialize with people because to him, that's hypocrisy. So he keeps to himself and judges the interactions between people to justify his own behaviour. Though deep down, he secretly wishes someone would reach out to him to listen and understand. With his crude sense of humour and the way he sees things, this anime is undoubtedly an interesting take from the rest. Under all the pretty faces and comedic moments, this show touches on the most sensitive and deep troubles people face on a daily basis.
Oregairu is not your typical romance, school life anime. It is philosophical and delves deep into one's heart and tugs at its heartstrings. You will feel for each character as though they are you and you are them. And that's what makes it so real.
Rascal Does Not Dream of Bunny Girl Senpai
Interesting title, right? Well, the show's even more interesting.
It starts off with a guy spotting a girl in a bunny costume at the library… and other people not noticing. Turns out, girls in this anime are going through this phrase called the "Puberty Syndrome", where they inhabit some strange ability related to an issue they're going through.
Viewers follow the protagonist male, Sakuta, through his journey handling victims of Puberty Syndrome. With an essence of the supernatural, brace yourself for some strange scenarios including the same day repeating, a victim's twin sprouting out of nowhere, scars that appear from hate comments, and many more. And with each story, you learn to care and empathize with a new character.
The character interactions in this show are what sold it for me. Every character has their own quirk and individuality, and the connections formed between them feel natural and genuine. Sakuta himself is a bold-faced and kind-hearted guy with his own weird (and pretty twisted) sense of humour. There's also our main heroine, Mai, who rose to fame from a young age and has a sensitive and pure soul. Comparing someone who runs his mouth however he likes it and someone who keeps things serious and professional, the interactions between Sakuta and Mai are both entertaining and endearing.
A slice-of-life that holds the most meaningful messages, this is not a show to be missed.